All your pool & spa needs under one roof
View All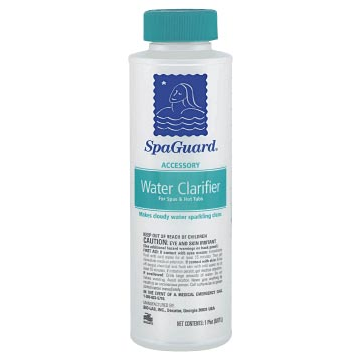 WATER CLARIFIER
SpaGuard
For Crystal Clear Spa Water
Details
Makes cloudy water sparkling clear.
Combines small particles into larger ones for easier filtration
Does not affect pH
Helps clear cloudy water
Features
Size: 1 pint
NOTE: Do not overdose with this product. Adding more than the recommended amount of product can result in continued clouding of the water.
Application Instructions:
Clean or backwash filter

Apply 2 Tbsp (4 capfuls) per 300 gallons directly to spa with pump running.

If filter pressure reaches manufacturer's maximum recommendation, rinse or backwash the filter.

Repeat in 24 hour if spa water has not cleared.

For maintenance, apply 1 Tbsp (2 capfuls) per 300 gallons weekly with the pump running.

Clean filter after each treatment.
Not seeing what you're looking for?
Visit us at one of our locations
Our Next Event
Our Brands