All your pool & spa needs under one roof
View All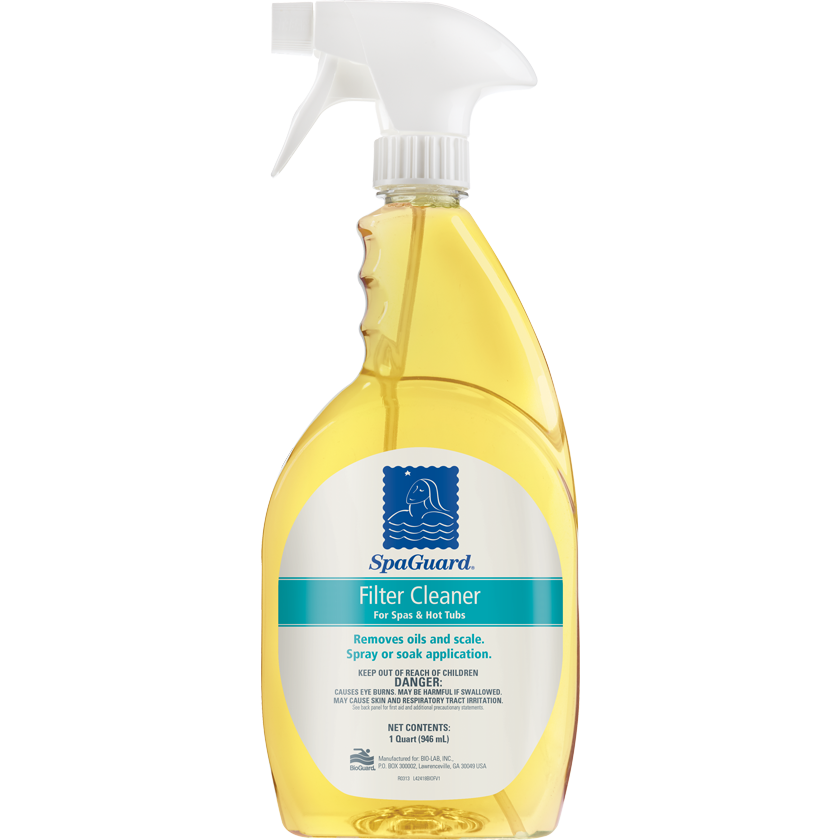 FILTER CLEANER
SpaGuard
Filter Cartridge Cleaner & Degreaser
Details
Removes oils & improves filtration.
Cleans oils & scale from filters of all types
Helps keep water clear by promoting better filtration
Easy to use sprayer applicator
Can be used as a soak application
for spas & hot tubs
Features
Size: Quart
Application Instructions:
Remove filter element(s) & remove excess debris with a garden hose.
Spray full strength

Filter Cleaner & Degreaser

uniformly to wet element(s) <OR> soak them in a solution of 1 part

Filter Cleaner & Degreaser

to 3 parts water.
Light brushing may be required for heavy oil accumulation.
Rinse element(s) thoroughly with maximum garden hose pressure & reassemble.
If scale, crust or discoloration remains, use rubber gloves & briefly brush or soak elements in a dilute acid solution to remove scale buildup.
Thoroughly flush acid solution from filter element(s) with a garden hose.
Reassemble filter & resume normal operation.
Spa & hot tub filter(s) should be cleaned every 4 to 6 weeks using

SpaGuard Filter Cleaner & Degreaser

.
NOTE: To make acid solution, dilute 1 bottle of

pH Decreaser

in 5 gallons of water.
Not seeing what you're looking for?
Visit us at one of our locations
Our Next Event
Our Brands