All your pool & spa needs under one roof
View All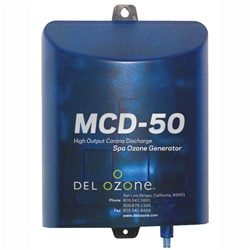 HIGH OUTPUT CORONA DISCHARGE SPA OZONE GENERATOR
natural spa sanitation
MCD-50 SPA OZONEATOR
Details
Application:
Portable spa / hot tub ozone replacement. High output system sanitizes hot tubs to 1,000 gallons.
Description: Ceramic tube CD ozone generator for extended durability and corrosion resistance.
Wall mounted on interior wall of spa
Installation kit includes tubing, backflow preventer, mounting hardware
Voltage selector switch for dual voltage models
LED indicator for ozone generator operation
50 mg/hour ozone output at rated airflow
UL listed
Features
up to 1,000 gallons

New Dual-Voltage Design
Not seeing what you're looking for?
Visit us at one of our locations
Our Next Event
Our Brands