All your pool & spa needs under one roof
View All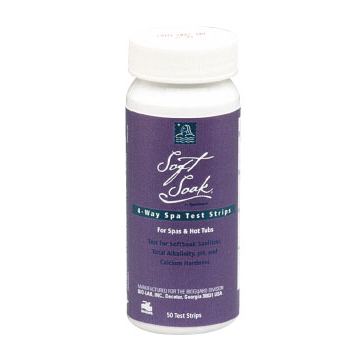 SOFT-SOAK 4-WAY TEST STRIPS
A bromine-free, chlorine-free sanitizing alternative
Testing for bromine-free & chlorine-free spa & hot tubs.
Details
Four (4) tests on one strip
SoftSoak Sanitizer
Total Alkalinity
pH
Calcium Hardness
One of the most important aspects of spa maintenance is testing. The SoftSoak 4-way Test Strips check your SoftSoak Sanitizer level, Total Alkalinity, pH & Calcium Hardness levels. The sanitizer level should be between 30-50ppm, Total Alkalinity between 80-120ppm, the pH range should be within 7.2-7.6, & the Calcium Hardness level between 200-300ppm. Test your water. If these conditions are met, your spa is ready for enjoyment.
Features
Size: 50 count
Instructions:
Dip a strip into the water for 1 second, remove. Hold strip level for 15 seconds. Starting with the Calcium Harness pad (nearest the thumb) compare that pad to the color chart. Continue to compare the pH pad at 20 seconds and the Total Alkalinity pad at 30 seconds.

Re-dip the strip & rapidly move the strip back & forth under water for 30 seconds. Compare the Sanitizer pad to the color chart.
NOTE: Incorrect Sanitizer readings may occur if the strip is not moved back & forth under water for a full 30 seconds.
IMPORTANT: Keep cap on tight between uses. Store at room temperature.
Not seeing what you're looking for?
Visit us at one of our locations
Our Next Event
Our Brands