All your pool & spa needs under one roof
View All
Accessories and Supplies

/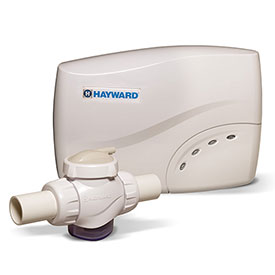 SALT & SWIM
Salt Chlorination System
Easy, affordable, year-round salt sanitizing system.
Details
Salt & Swim is the most affordable way to move up to a salt chlorinated pool and experience softer, silkier water. If you've dreamed of owning a salt chlorinated pool, Salt & Swim is the answer that fits into most household budgets. It offers a more natural approach to sanitization and will cut the time you spend managing your water chemistry. No more mixing, measuring or messing around with liquid or tablet chlorine. Say goodbye to red eyes, dry skin and chlorine odor.
Salt & Swim is truly a do-it-yourself installation with no gluing required. You can have the ultimate swimming experience in just 20 minutes and four easy steps - it's so simple.
Features
Salt & Swim offers a 6-month service cell for regular swim season use. Salt Cell is included in the box with the control unit.
DIY installation with no gluing required
Replaceable salt cell priced comparable to annual cost of chlorine
Easy to interpret LED control panel
Online DIY Assistant
Universal twist on connectors for 1.5" and 2" plumbing
Super chlorination feature
2 year limited warranty (control box)
Plugs into 120 V, GFCI outlet
NOTE: For in-ground pools ONLY - up to 25,000 gallons
Not seeing what you're looking for?
Visit us at one of our locations
Our Next Event
Our Brands