All your pool & spa needs under one roof
View All
Accessories and Supplies

/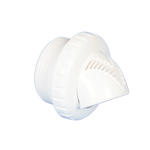 VENTURI RETURN FITTING
Save Time, Money & Energy!
Replacement return fitting
Details
Infusion Pool Products introduces, Revolutionary, Venturi Driven Swimming Pool Return Line Fittings!
V-Fittings' venturi technology deep heats while drastically enhancing circulation, improving chemical disbursement and reducing energy consumption. Deep heating highly complements the effectiveness of solar pool covers and solar systems.
Save time, money and energy by simply replacing your standard eyeball swimming pool return line fittings today! V-Fittings' 60 degree venturi deep heats by drawing warmer surface water through strategically placed louvers thrusting it to the floor of the pool creating a cleaner, easier to service swimming pool. V-Fittings have no moving parts and simply attach, by hand, to 1.5 inch threaded wall return line inlets worldwide. Go Green while saving money and improving water quality for the life of the pool!
Not seeing what you're looking for?
Visit us at one of our locations
Our Next Event
Our Brands