All your pool & spa needs under one roof
View All
Accessories and Supplies

/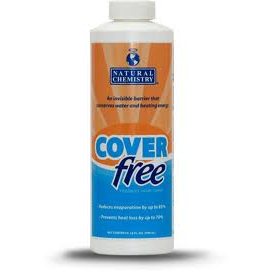 COVER Free
Replaces your solar cover
An invisible barrier that conserves water & heating energy
Details
Save Water, Save Heat, Save Money.
Natural Chemistry
COVER Free
is an invisible barrier that conserves water & heating energy. The most efficient & effective water & heat saving product on the market.
Replaces your solar cover
Reduces evaporation by up to 85%

Prevents heat loss by up to 70%

pH neutral

Liquid Solar Blanket
Features
COVER Free's patent pending advanced mono-layer technology offers users the ability to save water & money by decreasing evaporation. A mono-layer, one molecule thick, is formed on the water surface. Surface tension allows it to remain in place or reform during swimming.

COVER Free reduces water evaporation by up to 85% - or up to 60 gallons per day! Saving money on many levels: Reduces make up water addition, reduces chemical additions & rebalancing water after additions.

COVER Free reduces water heat loss by up to 70%. The heating of pool water can be very expensive. Heat escapes water through evaporation, therefore costing money. Keep the heat, reduce the costs.

Dosage: 4 ounces per 20,000 gallons

Directions for use: Shake well. Squeeze recommended dose over the surface of the pool water.
size: Quart
Not seeing what you're looking for?
Visit us at one of our locations
Our Next Event
Our Brands